Ties That Bind
Grandparents Raising Grandchildren
Join the Discussion
We now have a place for kinship caregivers to discuss issues and ideas.
Join the conversation in the Discussion Group section!
(Please Register first so you can contribute to the discussion.)
Please take a moment to sign in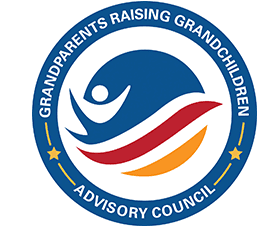 Many grandparents raising grandchildren, say they feel alone. However, at least 2.6 million grandparents are responsible for grandchildren in the U.S. Together they would be a city the size of Chicago.
Washington is starting to notice. The Supporting Grandparents Raising Grandchildren Act which passed in 2018 also established an Advisory Council to keep it real.
The Advisory Council will identify, promote, coordinate, and disseminate to the public information, resources, and the best practices available to help grandparents and other older relatives both meet the needs of the children in their care; and maintain their own physical and mental health and emotional well-being.
The encouraging news is that 5 members of the Council are grandparents with experience raising grandchildren.
But the Council wants to hear from more grandparents raising grandchildren. Really. Go to this website and you will have a chance to make suggestions based on your personal experiences. Adding your voice will empower the grandparents on the council and add authority to their input. But hurry. Deadline for sending responses is February 7, 2020.
https://acl.gov/form/sgrg-form
For more information about the Council and details on their first meeting:
https://acl.gov/programs/support-caregivers/supporting-grandparents-raising-grandchildren-0
NAMI has announced the release of a free online education course, which consists of a free, six-session education program for parents, caregivers and other family who provide care for youth aged 22 or younger who are experiencing mental health symptoms.
Participants can sign up at basics.nami.org. This is a great opportunity!
If you are a grandparent, or other relative, age 55 or over, parenting a grandchild 18 or younger, you may be eligible for financial assistance to pay for school clothes and more. See if you qualify.